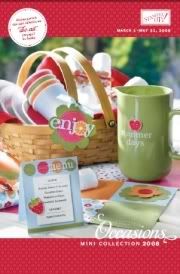 The new Occasions Mini starts today until May 31. This mini screams Summer Time Fun. From the cute bright paper to the yummy stamp sets to the rub-ons, this mini has it all. The best part is that they are die cut!! If you are interested in a mini, please email me at ca.granger@sympatico.ca. You can also check out the mini at www.stampinup.com.
I will be placing orders throughout the month. Let me know if there is anything that you want to order. Watch for upcoming projects, classes and samples within the next week.
Have a great Saturday and hug the ones that you love!!